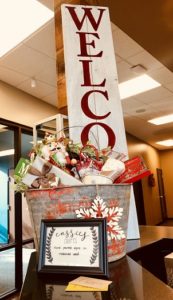 Here at Discovery Dental, we are getting ready for the holiday season! We are giving thanks to all we are grateful for this year and also getting ready for the year to come. Dr. Dave and Dr. Tom are always, and especially this year, grateful for the love and support of their families and for their good health. On a personal note, Dr. Tom made an impressive recovery from emergency abdominal surgery in October. Dr. Dave was proud to finish 3rd in a 100-mile race! Both doctors are in deep anticipation for their impending travels to be closer to family on Thanksgiving!
Both Dr. Dave and Dr. Tom know the value of taking time to reflect on what they are grateful for. One of their favorite sayings is, "Comparison is the thief of joy." Gratitude helps you to recognize the blessings in your life; it gives perspective and cultivates joy.
We have a few holiday traditions that we adhere to! Our Christmas tree will go up right before the Thanksgiving holiday, our decorations will come out, we will have a few holiday contests, and we will prepare for community events like the Washougal Festival of Trees where we donate a beautifully decorated tree in support of the local schools!
Our top tip for surviving the chaos on the holiday season is getting ahead! Make that To-Do list and then start crossing items off early! It never hurts to be ahead of the game, but it's miserable to feel behind!
One of the biggest highlights of the last year for us was the unprecedented growth our practice had! Thinking about the New Year, our goal is always the same. We want to provide quality care to our patients in an environment that is clean, safe, and inviting. We are continually striving to serve the community in which we live.
We are giving away a $100 grocery gift card to help with Thanksgiving - and we are also giving away a pair of Blazers tickets! Just check out our Facebook page to enter to win! And we are always giving away a basket to those amazing patients that refer family and friends to the practice. We hope everyone is enjoying the season surrounded by friends and loved ones!